The material and landscape adventure> Poetry, landscape and pastoral heritage
Step 1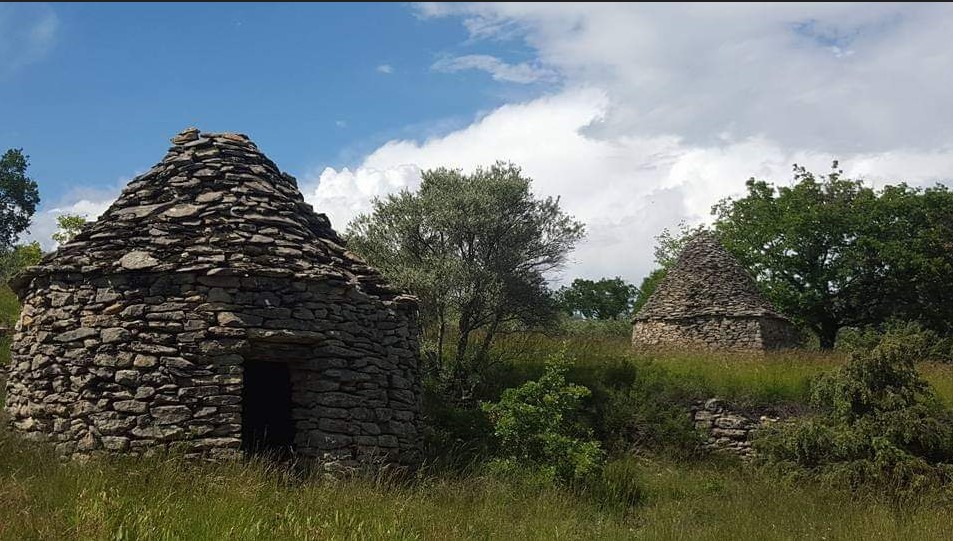 alt_route Mane and its pointed sheds
access_time 1h30 - Free
The limestone plateaus of Haute-Provence are dotted with dry stone architecture: bancau, pointed cabins, jas, wells, aiguiers… so many traces of an ancient agricultural and pastoral economy. In the Forcalquier region, this technique, born in the 13th century, consists of assembling stones without any binder.

In 1963, around a hundred pointed cabins were inventoried between Saint-Michel-Observatoire and Mane! Many of them have disappeared, dismantled and sold by the cubic meter of material, sometimes to litter the roads. The cabins in the Eyroussiers district in Mane have been preserved from this disaster. Several of these cabins display cut stone frames from neighboring quarries.
Pointed huts circuit
Level: Easy
Duration: 1 hour 30 minutes
Type: Buckle
Length: 2,7 km
Elevation gain: 100 m
Start / Finish: On the D950, at the crossroads with the old Chemin de Mane à Limans
Find out more
Mane's Stone
Mane is known for the quality of its stone, a limestone molasse dating from the Miocene, mined to the west and north of the village since Antiquity. This stone comes from the grounds of the shell limestones of the deep seas which are deposited on a few tens of meters thick.
Called southern stone, hot stone or even Mane stone, it crumbles into soft rubble and is an excellent building stone. It is used in particular in the construction of Salagon and the Citadel.
The geological history of the region has resulted in another type of mineral landscape - that of karst. Karst provides limestone rubble with white or gray facies, hard and fine-grained, in which many fossils are encrusted, including the famous ammonites of the Barremian. It is called stone of Provence, or cold stone, or limestone.